Jameis Winston is the current quarterback for the Florida State Seminoles. He was born in Heuytown, Alabama in January 6, 1994.
"
When you have great veterans around you and great people you trust, you want to go out on that battlefield and play your heart out for them.
"

–Jameis Winston, after the 2013 Florida vs Syracuse game.
Early Years
Edit
When Jameis was 4 years old, he fell in love with football. When he attended Hueytown Middle School, in Hueytown, Alabama, he was already educated mentally as a Quarterback; he had written a note regarding characteristics of a Quarterback and even drew a detailed diagram of how to attack multiple Defensive Coverages.
Winston attended Hueytown High School in Hueytown, Alabama, and was considered the best quarterback recruit by ESPN [1]. He is also a Baseball player for the Florida State Seminoles Baseball Team.
College Career
Edit
Jameis Winston signs (commits) with Florida State on February 3, 2012 [2]. He was Redshirted his first year of College, but was still able to practice with the team, and go to home and away games.
Redshirt Freshman
Edit
In the 2013 football preseason, Winston outbeat every quarterback competing for the #1 spot in the depth chart, at Florida State. Winston won, and is now the starting quarterback for the Seminoles.
"
We ain't leaving without a victory, we ain't leaving without a victory! So ya'll hey, my brothers, put a smile on your face. Okay? Because we are Florida State! If we gonna do it then, we do it big!
"

–Jameis Winston, 2013 Clemson vs Florida State Pregame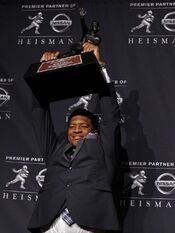 Jameis Winston wins the 2013 Heisman Trophy, on December 14, 2013.
Jameis Winston was first noted at the first Florida State game versus Pittsburgh on September 2, 2013. On his first game, Winston completed 25 passes out of his 27 attempts, threw 4 touchdown passes, rushed for 25 yards, and rushed for one touchdown, and also had a Quarterback Rating of 97.4. He also led the Seminoles to their first win of the season 41 to 13.
Throughout the season, Winston showed character and leadership, and led the Seminoles to an undefeated regular season (13-0) which hasn't happened since 1999; also won the ACC Championship with ease, and defeated the teams with most doubt by a long shot.
The day after Veterans Day, Winston was brought up with a sexual assault case that was inactive but open, which was filed nearly a year ago before the reactivation, on December 7, 2012. Even with that on his mind, Jameis managed to handle the pressure, and stress on the field.
On December 14, 2013, Jameis Winston became the Winner of the 2013 Heisman Trophy. He is the youngest football player (being 19 years old and 342 days), and also the second redshirt freshman to ever win the Heisman Trophy.
| | | | | | | | | | | |
| --- | --- | --- | --- | --- | --- | --- | --- | --- | --- | --- |
| Year | Pass Completions | Pass Attempts | Completion % | Pass Yards | Pass TD's | INT | Rush Attempts | Rush Yards | Rush Avg | Rush TD's |
| 2013 | 257 | 384 | 66.9% | 4,057 | 40 | 10 | 88 | 219 | 2.5 | 4 |
| College Totals | 257 | 384 | 66.9% | 4,057 | 40 | 10 | 88 | 219 | 2.5 | 4 |
2013 Quarterbacks at Florida State University
Jameis Winston • Jacob Coker
References
Edit